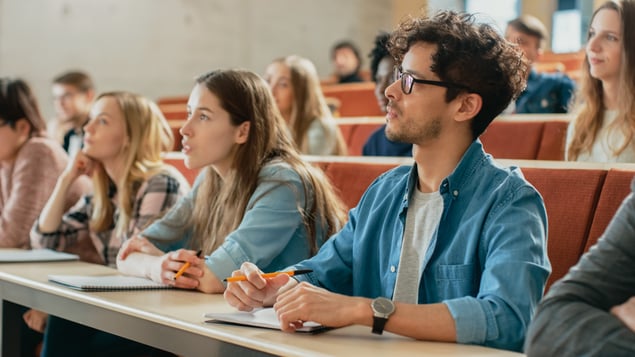 As a new generation of students emerge with different expectations than previous generations, colleges and universities are evolving their living and learning standards to satisfy the needs and educational desires of the modern student.
Having worked with higher education facilities for decades, SaniGLAZE offers creative tile and hard surface restoration solutions that will transform your facilities to the meet the needs and desires of incoming students.
The Swinging Pendulum of Campus Amenities
Most colleges and universities are leveling out after a shift in the approach to building design in the last two decades.
In the early 2000s, colleges clamored to build amenities they believed would attract millennial students and boost enrollment.
Higher education facilities poured their budgets into luxury housing and flashy amenities, like climbing walls and lazy river, in the hopes of standing out from the competition.
But as enrollment costs rose, drawing some scrutiny, many schools scaled back. And given how prominent the national conversation around student loan debt is, it's hardly surprising that affordability has become a bigger factor for students than ever before.
Not wanting to just cut costs and reduce space, more often schools are putting more consideration into which amenities align to what students care about, which are actually contributing to student outcomes, and what amenities simply aren't.
A Look at New Balanced Approaches to Housing
More institutions have begun to take a deeper look at facilities spending and how that's truly impacting student enrollment and graduation rates. Many universities have extensive data showcasing that living on campus leads to students having higher graduation rates and a more positive opinion on their college experience.
However, for some, too high of rising costs hurt student outcomes. For instance, one university in the Southeast found that when it increased housing costs after spending $168 million on apartment-style student housing, it found a student was 12 percent less likely to graduate for every $5,000 in unmet financial need.
Because of findings like this, there's been a return to smaller, more spartan campus housing – allowing schools to both maximize space and reduce housing costs for incoming students.
In some instances, schools are combining meal plans with lower-cost campus housing – at a price cheaper than luxury housing that doesn't include meals. Administrators at many institutions have been astonished at how eagerly students rushed to embrace these more affordable options.
Although smaller living spaces can reduce housing costs for students, large, shared community restrooms don't. Private kitchens and bathrooms may attract students, but it doesn't give them the opportunity to connect and socialize with others.
School facilities like dining halls and rec centers may be less "shiny" on college admission brochures than a 24-hour climbing wall, but they remain integral spaces for developmental opportunities where students gain chances to build relationships, network, and resolve conflicts.
Student Experience and Affordability now Drivers in Facility Growth and Maintenance
A sense of community and the lifestyle a college offers continues to be an important factor for incoming college students. A renewed focus on social spaces for students, combined with affordability, is now driving facility growth and maintenance in higher education.
Niche amenities and social spaces that meet the tastes of a college or university are often great ways for one school to stand out from the pack and advertise the campus experience. Colleges and universities are now providing perks of a more utilitarian nature, such as napping stations and laundry services.
Although a library napping station may sound like a luxury item for lazy students, it's actually a helpful time saver for students who must do hours and hours of research and study at the library. Being able to catch a quick nap where they are prevents them from having to return home to rest and journey back, adding valuable minutes to their study regimen.
Underground and "skyway" tunnels are a welcome perk to students braving northern winters and laundry services, while not glamorous, are incredible time-savers for busy students.
Quirkier amenities – such as community kitchens with culinary classes or even campus fire pits – are attracting students through lifestyle appeal, switching the focus on amenities from escapism to engagement.
As Teaching Evolves, so Does the Concept of Classrooms
As the education system has evolved, what we teach and how we teach it has also changed. How information is taught – how positive learning outcomes are achieved – goes beyond the teacher and his or her curriculum.
Research has shown learning outcomes can be impacted by everything from nutrition and exercise all the way to classroom design and furniture. Because of this, schools all over the nation are constantly asking themselves how to provide the best spaces for student learning.
When it comes to updating facilities in higher education, the issue is more complex than simply finding the space to fit students in. Specialized technology or a desire for student collaboration is impossible to achieve in an outdated space without the tools and layout students need to succeed.
To remedy this, many colleges and universities are building or restoring spaces with adaptability and communal use in mind.
Furniture and flooring are often chosen to serve a variety of functions and larger, collaborative spaces—like student learning labs—maximize limited space by serving multiple purposes.
An Affordable Solution
Facility managers looking to minimize budget expenditures but still provide contemporary spaces for learning would be wise to focus on adaptability and collaboration when building or restoring student learning spaces.
Rip-out and replacement is costly but affordable restoration solutions are available. Providing restored and versatile spaces will appeal to the evolving generation of students.
This is an excerpt from our full report, available here.