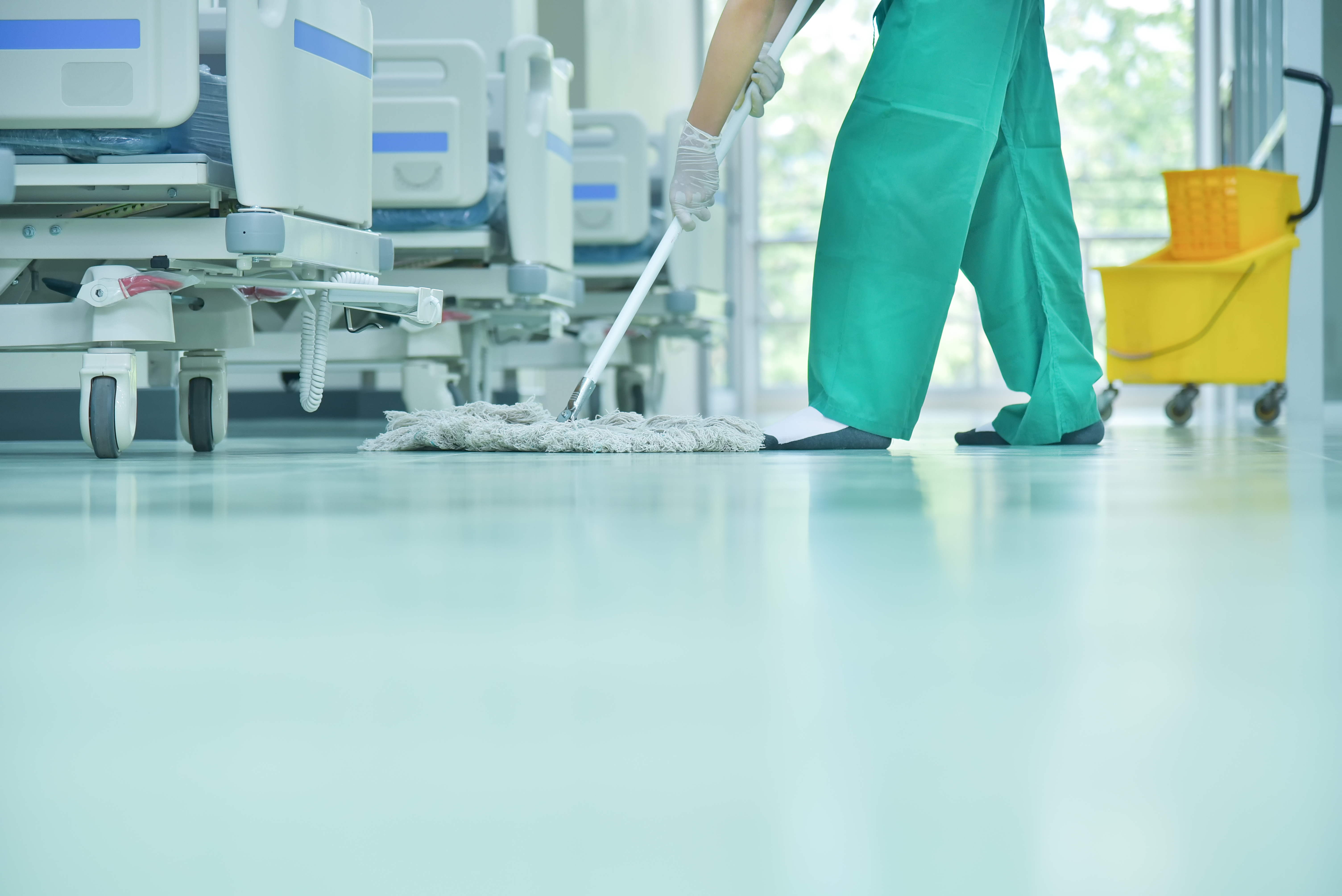 Patients, healthcare staff and hospital visitors all rely on healthcare facilities to put a strong emphasis on cleanliness and sanitation. For many patients with contagious illnesses or compromised immune systems, hospital cleanliness can literally be a matter of life and death.
Healthcare-associated Infections & Flooring Sanitation
Each year nearly 1.7 million patients acquire healthcare-associated infections (often called HAIs) while being treated for other health issues at a healthcare facility, according to the U.S. Centers for Disease Control (CDC). One in 17, more than 98,000 patients, die due to these infections.
As early as 1967, researchers were aware that hospital floors were being contaminated with bacteria. But when floor scrubbing and even chemical decontamination provided little or short-lasting improvement due to cross-contamination, CDC researchers claimed the practices were not helpful in preventing infection. Then in 2003, the CDC advised staff to "keep housekeeping surfaces (e.g., floors, walls, and tabletops) visibly clean on a regular basis and clean up spills promptly."
Flooring Disinfecting Deemed Critical
After more than 15 years of research, scientists are now coming to a different conclusion.
In 2017, the American Journal of Infection Control published a study that determined that floors harbor dangerous germs and should be reclassified as "critical" areas requiring more thorough cleaning and disinfecting. An important point in the study notes that "41 percent of the rooms studied had one or more objects touching the floor, such as medical devices, bed linens, and towels. As these items are touched by patients or healthcare workers, it is possible that germs from the floor will be transferred to their hands."
The spread of bacteria through items touching the floor or people removing shoes or shoe coverings, means infectious material can be transferred from the floor to medical devices, call buttons and high traffic wards very quickly. Many researchers are now suggesting a more intense, focused approach to floor cleaning and maintenance in healthcare facilities.
Preventing the Spread of Infections via Floors
To help prevent floors from harboring infectious bacteria, infection control specialists suggest a layered approach.
On a daily level, they suggest the routine removal of dry soil and damp/wet contaminants. This should include a good floor-care disinfection program with the appropriate use of tools, chemicals and procedures.
Also recommended is a variable, periodic maintenance program that takes into account the location and traffic volume of a floor and how often and aggressively it needs to be serviced. Many hospitals are adding floor restoration to their facility management budgets to improve the health and safety of all patients, staff and visitors in healthcare facilities.
This is an excerpt from our full report, available here.