When facility managers struggle to fit upkeep and repairs into the budget, buying into a tile and grout maintenance program can seem like an extravagant expense. But, it often makes the most fiscal sense to become proactive in the protection of your tile and grout surfaces instead of continually pouring money into reactive repairs caused by delayed maintenance.
Although delayed maintenance may not seem disastrous, especially if typical business operations can continue to function normally, it often winds up costing companies more to correct in the long run.
As a QSI Facilities article states, "…deferred maintenance can have serious financial repercussions. For example, failure to address maintenance needs in a timely manner will result in the increase in total cost of repair that is equal to the squared cost of the original repair, like a $100 repair becoming a $10,000 repair in the future. Poor budgeting consequences do not end there; shareholders hold Facilities Managers to a higher standard of justification for funding. Therefore, any problem will result in setbacks in obtaining funding in the future… It becomes a self-propagating cycle that increases the total cost of ownership (TCO)."
Participating in a tile and grout maintenance program designed around your buildings' specific needs and environmental factors not only enables facility managers to become less reactive, but it also provides a mechanism for them to show potential cost-savings.
Proactive maintenance – in the long run – saves money.
Tile and Restoration Companies Can Help
What to Expect from your Initial Visit or Consultation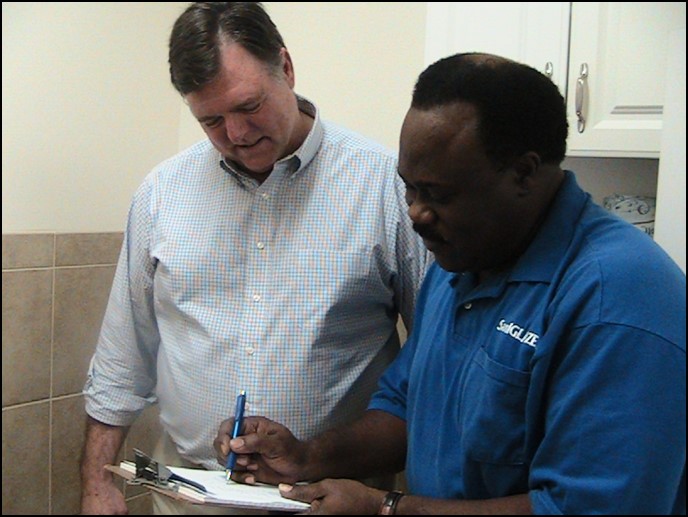 Many companies will conduct their own research online and exchange emails or phone calls with a potential tile and grout restoration company before ever meeting onsite. Eventually, though, there should be an initial consultation where both parties review the work needed, view problem areas and discuss potential projects.
A professional company will insist on seeing the worksite(s) beforehand, not just to assess square footage or a price, but to identify the issues at play, the materials present in the flooring and how those may play into a sustainable solution. A good tile and grout restoration company should have plenty of before & after photos of previous work, customer referrals, an array of product and service options and a demonstration process.
Good communication is also key.
What to Expect when Restoration and Repairs are Needed
In many cases, the search for a tile and grout restoration company is prompted by issues that demand an immediate solution. This could range from repairing broken tile and eroded grout lines in restrooms to restoring entire student dorms.
A good company will be skilled in deep cleaning, moisture extraction, and the ability to repair and restore a variety of surfaces. Some companies are even skilled at integrating their services into new construction as early as the bid process, helping businesses protect their investments from the start and before any damage can even occur. Others are capable of handling government contracts.
Choose the right company for your needs.
Establishing a Routine Cleaning Schedule
For many companies, daily cleaning is accomplished by onsite maintenance staff or janitorial contractors, but it is often a good idea for tile and grout professionals to step in when routine cleaning seems to be less effective, foul odors develop or surfaces appear dull and feel tacky.
In these instances, a restoration company can extract moisture and contaminants from tile and grout, remove residual cleaning chemicals or mineral deposits from surfaces and sanitize them.
A good restoration company should assess whether daily maintenance practices are helping or harming the tile and grout surfaces and will often help you set up a routine maintenance program after the restoration is complete.
Periodic Deep Cleaning and Refreshing is Important
Occasional deep cleaning is a good idea even with a well-functioning maintenance plan in place.
How often this occurs will depend on the company, surface and level of wear and tear, but it is often performed on a quarterly basis. A periodic visit would include deep-cleaning and the extraction of contaminants from tile and grout surfaces.
It may also include minor repairs to scratches or scuffing and the refreshing of coatings for grout lines or tile. Many restoration companies offer products that can both seal and recolor grout lines, enhancing design options.
Stripping and Reapplication of Sealants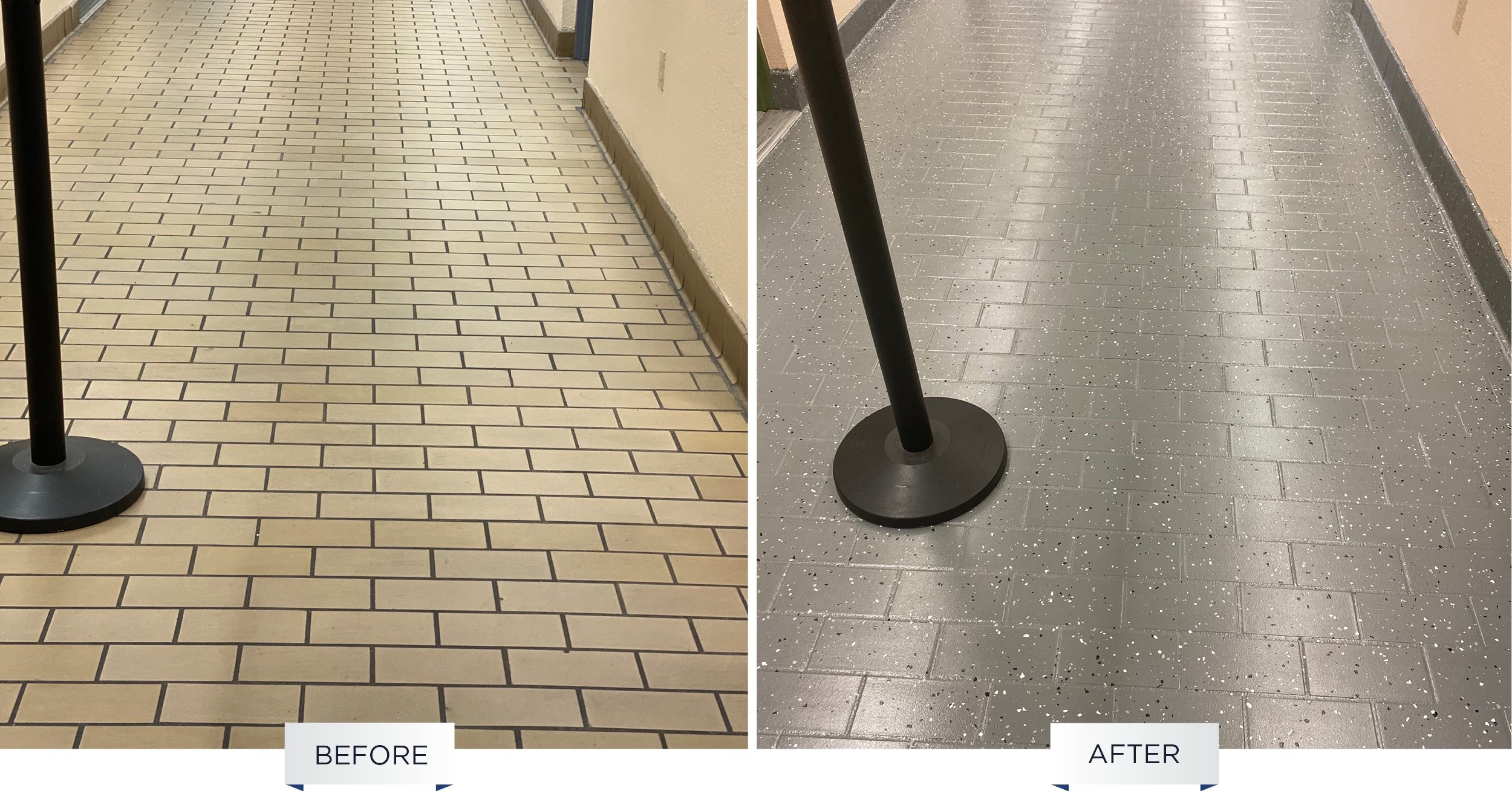 Often saved for an annual maintenance visit, stripping and reapplication of sealants occur when tile and/or grout coatings have failed or worn away and need to be replaced.
This process always begins with a deep-cleaning and the removal of existing coatings. Any damages are repaired, and new products are applied to seal and protect floors and walls.
Both the tile surface and grout lines can be recolored at this time and a wealth of design options – from slip-resistant products to striking, metallic floor chips – are available to add flair to functionality.