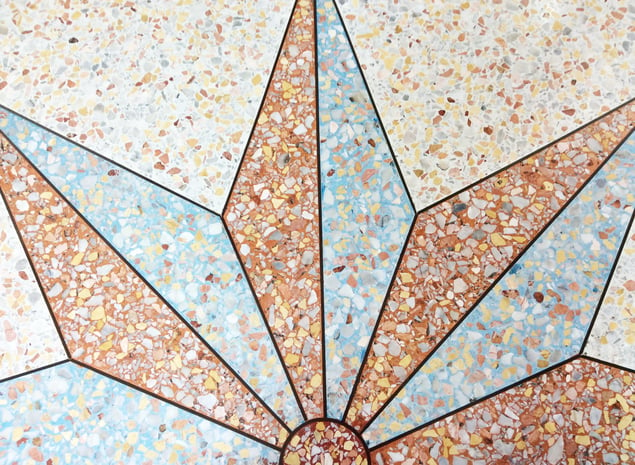 Terrazzo, a material commonly used for countertops and partitions, has a unique history of how it originated. Although its popularity as an upscale flooring choice faded after the early 1970s, it has made a major comeback as a popular flooring choice in recent years.
Terrazzo is now appearing in commercial spaces like airports, office buildings and hotels thanks to its strength, beauty and durability. Even though Terrazzo is a durable material, it is not indestructible and requires proper maintenance and repairs.
Then and Now
Terrazzo was discovered in the 1400s by creative Italians who found unique ways to reuse marble remnants intended for mosaics. It evolved from Venetian workers mixing scraps from upscale jobs with clay to create inexpensive flooring for their own homes and patios.
They eventually figured out they could seal it with goat's milk, which made the colors more vibrant and improved the marble's sheen. Today, terrazzo remains one of the most affordable flooring materials when assessing the length of its lifecycle.
Thanks to the evolution of epoxy resin and its extraordinary binding abilities, modern terrazzo has ventured far beyond the traditional surfaces that rely on marble, granite or Mother of Pearl for aggregate material. Aggregates in today's terrazzo surfaces can include a variety of items, such as recycled glass, porcelain, concrete and even plastics and mirrors.
Protecting Your Investment
Terrazzo may be beautiful and durable, but it isn't indestructible, especially in high-traffic environments. As a VMC Technical Assistance Corporation article states, "…enemies of terrazzo include grit, dust, and sand. With foot traffic, grit can grind into the terrazzo, leaving what are essentially tiny potholes, cuts, and scratches that can prove very difficult to repair using traditional cleaning methods. When this happens, cleaning professionals frequently have to scrub the floor clean, apply a sealant or finish, and then buff or burnish the floor. While this may help cover up the problem, the situation could have been avoided in the first place by applying a sealant or finish before the damage was done."
Preventative Maintenance
Companies that focus on tile and grout restoration, or renovating additional flooring materials, can provide sealing for terrazzo surfaces upon installation or after a deep cleaning, but it is important to remember sealants and coatings need to be refreshed periodically. When done properly, preventative maintenance offers considerable cost-savings in the long run.
Repairing Terrazzo
When damage to a terrazzo surface goes beyond light scratches and discoloring, more intensive repairs become necessary.
Cracked or broken terrazzo may occur if a floor's concrete slabs absorb excessive moisture and can even result from harsh cleaning with acidic chemicals. Professional restoration companies can often repair issues, depending on the type of terrazzo floor and the extent of the damage.

VariGLAZE process used to patch an area where a terrazzo floor had been torn out for plumbing work.
Sometimes, technicians can repair a base setting by patching in new matching material and then covering the entire surface with a protective clear coat. Other times, terrazzo needs to be ground and polished to restore shine. In these instances, flooring professionals will be needed to thoroughly clean and seal the restored surfaces with the appropriate products.
Although terrazzo surfaces certainly aren't inexpensive, its longevity can offer considerable savings when properly cared for. Its strength and durability make it ideal for high-traffic areas, and its resistance to bacterial growth and mildew make it an ideal choice for healthcare facilities.
As long as it's properly sealed, a terrazzo floor should be a fairly low-maintenance surface, but a protective surface coating (depending on the level of abuse) will enhance its aesthetic appeal and safety and help maintain its value.