There are quite a few reasons why restoring tile and grout surfaces is preferable to ripping out and replacing them, with cost-savings at the top of the list.
Yet, a smaller price tag isn't the only motivating factor.
Restoration and repair projects compared to the removal and installation of new materials, is often a more environmentally friendly option. That can be of value to companies looking to reduce their environmental impact or provide greener solutions for both public and private spaces, such as in schools and healthcare facilities.
The elements that make tile and grout restoration a more affordable option are also the ones, in part, that make it a more environmentally friendly solution. Repairing or restoring existing surfaces eliminates the need to tear out flooring materials, dispose of them safely and install new surfaces.
Choosing restoration over replacement can lead to several positive results.
Waste Reduction
Old tile and grout debris often ends up in landfills. This contributes to the destruction of natural resources and wildlife, polluting land, air and waterways. The amount of waste created during the process of rip-out and replacement is significantly higher than it is for restoration. Restoration greatly reduces the amount of waste created when returning a tile and grout surface to like-new condition.
Avoiding Release of Pollutants and Toxins
Replacement requires the removal of existing tile and grout surfaces, which tends to release dust and particulates into the air during the demolition or removal process. This fine debris can lower air quality and present a health hazard to those nearby. In some cases, toxins from old, outdated materials can present significant danger. Many facility floor installations use asbestos adhesives like black asbestos mastic.
Decrease Use of Raw Materials
Once all the old tile and grout has been removed and disposed of, new materials will have to be installed. No matter what they are, the purchase and installation of new flooring (or wall) supplies encourages more of their production and, in essence, the consumption of raw materials. Choosing to restore existing surfaces pumps the brakes on consumption and the world is a little better off for it.
Tile and Grout Restoration:

A More Sustainable Solution
Choosing to restore and maintain an existing tile and grout surface instead of installing a new material like VCT or LVT may be a more sustainable solution in the long run because of the materials' life cycle cost. The longer the life cycle, the less material (and manufacturing of that material) is necessary. Plus tile and grout are not only less costly to maintain, but also better prevent slip and falls.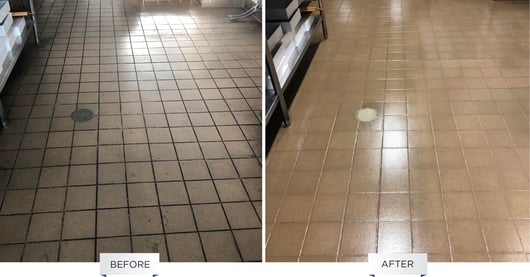 Transform the hard surfaces in your facility to their former glory using any one of our tried-and-true services.
Tile and grout restoration – when partnered with an effective, ongoing maintenance program – should actually reduce the occurrence and intensity of routine cleaning. With the upkeep of any necessary floor shields and grout sealants, as well as the rapid repair of any damage that may occur, the need for frequent or aggressive cleaning should be reduced. This impacts everything from the amount of labor needed for cleaning to the quantity of chemicals, water and energy used.
All of these, of course, benefit the bottom line – and present a greener, more sustainable solution at the same time.